Yesterday was the day in which a fat quarter set of this...


I used
Allison's
measurements for
this quilt
. I just hope mine turns out half as lovely as hers!

While cutting (and cutting and cutting) all these strips I kept asking myself, WHY didn't I just buy the Jelly Roll??!?! And then I remembered... it's because this way I wind up with all of these wonderful scraps!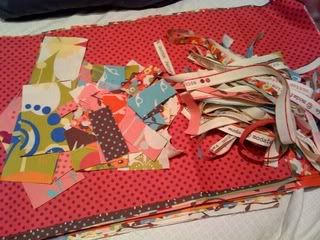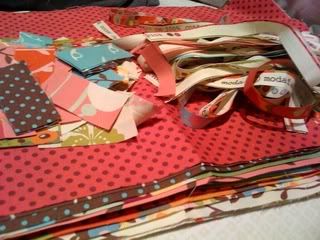 And of course I had to have an audience...

It may be time to make an appointment with the groomer. Poor Annabelle can't see.



I did some shopping yesterday, too! I bought a Charm Pack of each of these...
....which are destined to become baby stacked coin quilts.
I have a friend that recently found out she is pregnant. This is my way of "willing" her to have a little girl. Plus, I am just so in love with that Hushabye fabric!
And because I don't have enough unfinished projects as it is (ha!), I also purchased this Summer Soiree fat quarter set from Pink Chalk Fabric. Not quite sure what I'm going to make, but I'm extemely excited about this one!
So pretty!