Over the weekend I made a little bit of progress on my Wonderland quilt. I've completed 11 out of 36 blocks. Here's a little sneak peak (for all two of you reading.)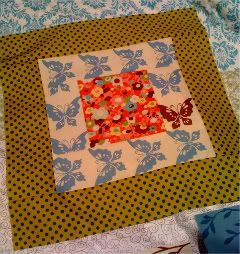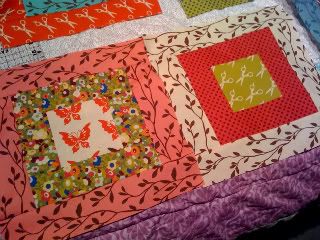 Even though I'm not even half way finished, this bad boy has already taught me a lesson or two (ok, three.) What I've learned so far:
1) When purchasing fabric online, it's best to buy pieces all from the same collection. This ensures that your fabric selections will actually look good together. Quite unlike these: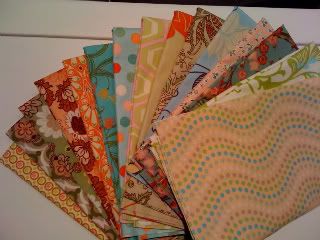 ...which were hand selected one by one from a variety of designers via the internet and to my great disappointment look really terrible together in person. Unfortunately, I didn't realize how unpleasant it looks until I had already cut and sewn blocks to look something like this: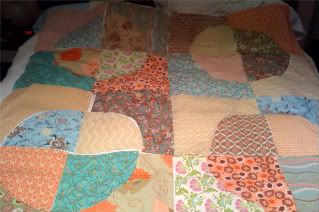 (I'm almost too ashamed to post this here)
Granted, this is an awful photo, but you can still see what a poor combination this is. Now I need to figure out what to do with 16 mildly unattractive quarter circles.
So the lesson is, when shopping online, buy fabrics that are specifically designed to coordinate with each other to avoid the above catastrophe.

2) If I had it to do over again, I would've paid more attention to the direction of the prints when cutting. I was being quite stingy with these Wonderland fat quarters and cut all the strips in one direction. I thought I was being clever and efficient, but I've wound up with some oddly sideways butterflies and scissors that cut in opposing directions. For this quilt, I actually kind of like the disorientation, but for future reference, I'll be sure to cut with more consideration.

3) Kind of in the same breath as lesson 1, working with an entire collection of fabrics is just plain awesome! It really forces helps me to think outside the box when it comes to color palette and the way I piece. When creating the combinations for these blocks I had a tendency to want to put all of my favorite fabrics together to make some totally rad squares. This left me with nothing but the (let's just call them "less favorable" because there honestly isn't a bad color or print in this whole line) fabrics to create the remaining blocks out of which would make for an odd and unbalanced finished product. Using these colors and prints together forced me WAY outside of my comfort zone. And I liked it!

4) I really MUST develop a better system for photographing my work. Hovering over the top of the bed with my iphone is just not cutting it.

I'll be working on these blocks some more this evening and will hopefully (but highly unlikely) have a quilt top finished before I go to bed tonight. I'm thinking of piecing the top together sans sashing. Any thoughts?

Any one at all?